As many schools and districts return to the classroom after months of remote learning, there is a renewed focus on school safety. Yes, a school safety strategy now includes COVID-19 related policies, but it's mission-critical to continue to focus on physical security and preventing school violence.
The Department of Justice's Community Oriented Policing Services (COPS) Office School Safety Working Group, in its recently released report, "10 Essential Actions to Improve School Safety", makes recommendations to school officers and law enforcement professionals on how to mitigate school violence. At Partner Alliance for Safer Schools (PASS), we're proud that our PASS Guidelines are featured prominently in COPS' recommendations.
The report cites the PASS Guidelines' role in demystifying confusion when choosing between security options, equipment and technologies. "The 'Safety and Security Guidelines' for K–12 Schools developed by [PASS] recognize this challenge," it writes. "The guidelines acknowledge that there is no one-size-fits-all solution for school safety and security."
The COPS program's document, "10 Essential Actions to Improve School Safety," is available for free download. For detailed guidance on protecting your school, district and community, see the full PASS Guidelines.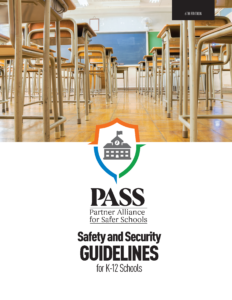 Ready to get the Guidelines?
The most comprehensive information available on best practices specifically for securing school facilities, vetted extensively by experts across the education, public safety and industry sectors.