It's a rainy morning. You get out of your car, grab all your things, and start walking toward your usual school entrance.
You don't see the man in the car. He's been watching you. He sees that your hands are full, and you're rushing to get out of the rain.
You get to the door. Juggle your things, use your badge to unlock the door, and burst into the building to get out of the rain.
You don't see the man who hurriedly hopped out of his car, following you. And just before the door latches behind you, he grabs it and gets inside.
You don't hear him. You're shaking the rain off, and your wet shoes squish on the floor as you quickly make your way to your room. But he's there, and it's because you inadvertently let him in.
Assessing Access Control on Your Campus
Fortunately, in this situation, the intruder is physical security consultant Paul Timm. As Vice President of Facility Engineering Associates, Timm works with schools to reduce safety and security risks on their campuses to encourage safer environments for learning.
"We get asked to do unannounced visits, and when we do them, generally I will come during arrival time or earlier," he said.
He'll wait for a staff member to enter an access-controlled door. Then, he follows and enters before the door closes.
"Nine times out of 10, I'm able to get in," Timm said. Which he believes is more of an education problem than a system problem.
"Someone should have told the staff members to make sure no one is following them in," he said. "If someone is trying to follow you in, direct that person to the visitor entry or report it."
The Need for One Point of Entry
It's not just staff member vigilance about entering the building. If there were only one thing schools could do to improve their access control, it would be to have a single point of entry with a secured vestibule, according to Timm.
"If it's arrival time and we need to get students into the building through more than one entry, each entry should be monitored," he said. "But once school is in session, there would only be one way to get into the building."
Having a single point of entry is one of the most critical visitor management practices.
"Ideally, you would have a good visitor management software system that vets visitors," Timm said.
He also suggested schools keep visitors' photo IDs when submitted for scanning, in exchange for a visitor badge to be worn on a colored, break-away lanyard while they are in the building. Then, the visitor is required to return to retrieve their photo ID so school officials can also account for when they leave the building.
Start with a Self-Assessment
If you're looking to get a grant to improve the access control systems in your school, Timm said many programs will require you to begin with a self-assessment. It's also one of the newest tactics many schools use to manage their buildings' security. It gives schools a game plan for what they should do next, he said.
"PASS guidelines can be used for self-assessment," Timm said. Without an assessment, "you're just hoping the things you have are enough."
The second assessment is cultural.
"We've got to get personal investments from school stakeholders," Timm said. "We have to make sure teachers (and staff members) are a part of the program and students have a voice. Otherwise, one of those stakeholders is going to prop [open] a door and render an electronic access control system valueless."
How Data Can Help You Improve Access Control
If you're looking to improve security on your campus, data can help.
"We can use community crime statistics to predict and understand what kind of threats we're facing," Timm said.
Going back to those electronic access control measures, he used the example of an employee who enters the same door every day at the same time, then suddenly doesn't. A good guess is that the staff member lost their card, Timm said.
"Check with them," he said. "If so, disable the card and issue them a new one. Look at audit trails for patterns and anomalies."
"We can also track drills to ensure we're doing them, and then account for feedback to ensure we're closing gaps," Timm said.
Document everything and use that data to improve your security.
How the Pandemic Impacted School Security
As many schools are settling into a post-pandemic world, we talked with Timm about how the pandemic affected school security. There have been some positives and negatives, particularly around visitor management, he said.
"Since the pandemic, there are many schools that stopped using visitor management software," Timm said. "Now they don't remember how to use it. Suspending the use of some of these systems has caused us to fall into bad habits or not return where we should."
Some schools are also experiencing staffing shortages. Timm has talked to schools that are budgeted for more security officers than they can find, he said.
But there were some positives. The pandemic gave those who oversee school security an opportunity to optimize their systems.
"It was a chance to take a breath and look around," Timm said.
The Best Security Comes Down to Access Control and Communication
"Nothing protects people more than having excellent access control and excellent communications systems," Timm said.
Timm's Takeaways for Improving Access Control at Your School:
If you're entering through an access-controlled door, make sure the door closes and latches behind you before proceeding.
Once the school day starts, there should only be one point of entry into the building.
If you haven't done so already, make time to do a self-assessment.
Examine your data to learn more about the risks on your campus.
Revisit access control practices from before the pandemic to ensure your staff gets back into good habits.
Contributors: PASS thanks Paul Timm, PSP of Facility Engineering Associates for his contributions to this article.
The Partner Alliance for Safer Schools (PASS) is a nonprofit 501(c)(3) bringing together expertise from the education, public safety, and industry communities to develop and support a coordinated approach to making effective and appropriate decisions with respect to safety and security investments. You can download the complete PASS Guidelines or check out our PASS Safety and Security Checklist for quick tips on how to get started. These resources—as well as whitepapers on various topics, including barricade devices, lockdown drills, and more—are available at no cost.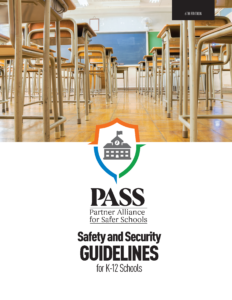 Ready to get the Guidelines?
The most comprehensive information available on best practices specifically for securing school facilities, vetted extensively by experts across the education, public safety and industry sectors.