Duress alarm systems can save lives. But if set up incorrectly, they leave you with a false sense of security. The best practices outlined below can help to ensure that should the need arise, the touch of a button on these small alarms will save as many lives as possible by alerting authorities to your need for help.
Call in the Experts
If you're looking to install a duress alarm system on your campus, it's imperative to work with a company that isn't only qualified to make recommendations but will also install and maintain your system for you. Many companies do this, but others who can assist include local first responders. After all, they're most often the first to arrive on the scene if you need to press that button.
Understanding Alyssa's Law
The experts you call in will know the importance of Alyssa's Law. This law addresses law enforcement's response time when a life-threatening emergency is happening at a school. It requires campuses to have a silent panic alarm system (duress alarm) for staff and students directly linked to local law enforcement. The specifics can vary from state to state, which is why you want to have an expert assist you who understands Alyssa's Law in your state.
As of this writing, Florida and New Jersey have specific versions of Alyssa's Law, and legislation is pending in several other states. Though introduced in 2019, Alyssa's Law is not yet a federal law.
Location Matters
The other big reason it's essential to have expert help with the installation is that the location of the duress alarm system matters, especially in large schools. First responders need to know exactly where the crisis is happening before they enter the building. If your campus has multiple floors, entrances, or facilities, you may want to talk to experts about mobile duress systems to help first responders quickly identify where the situation is happening.
Mobile duress systems require secure, supervised wireless network access—a system that's less likely to face internet outages. One option is to have a multiple wireless radio component for the receiver of a mobile duress alarm. And, of course, there are also battery concerns. You'll want to ensure there's a battery backup in place and ready to go when needed.
What You Get for the Money You Spend
When it comes to how much you can afford to spend on a duress alarm system, it's not just about the cost of the system itself. It's also about how it can enhance other systems already in place, giving you more value for the price—not to mention the lives you can potentially save.
You also want a duress alarm that will integrate with your existing security system. When appropriately implemented, any recurring costs can be small additions to ongoing monitoring services you're already paying for.
However, if you find that the duress alarm system you prefer doesn't integrate with your existing security infrastructure, PASS recommends providing visuals of interfaces of that solution to staff who will monitor the duress system in real time. For instance, you can provide the watcher with a digitized school map that displays where the duress devices are.
We also recommend streaming information from your duress system camera feeds if possible. For example, when mobile duress alarms are activated, verification and tactical assessments at the closest, accessible cameras are ideal. This gives your staff member monitoring the alarm instantaneous situational awareness during a crisis.
When evaluating your options, remember to weigh all the costs involved, so you can secure funding for the initial capital expenditure and any ongoing operational costs.
Try Before You Buy
Don't let anyone make you feel like you have to buy the option in front of you. PASS encourages end users—school administrators and personnel—to "try before you buy" when it comes to any technology to ensure it will work with your district security systems. Ask sellers if you can test products first by conducting a pilot project. This allows you to evaluate the technology before launching full-scale implementation. Many companies will provide products and services for testing a small, controlled location before installation on a larger scale.
Now You're Ready for a Duress Alarm, but Where Do You Start?
There are multiple duress alarm systems available to your campus, but deciding where to start can be daunting. Here are some priorities when it comes to duress systems:
Trust the experts, both your school security professionals and your local first responders
Understand regulatory standards, including Alyssa's Law, or find a duress alarm company that does
Remember the importance of location as it relates to the size of your school, and the need for first responders to know where to go
Ensure any wireless solution you consider is appropriate for a life safety application
Know what you can afford in terms of upfront and recurring costs and take advantage of pilot programs when appropriate
Contributors: PASS thanks Guy Grace, PASS vice chair, board member and advisor for his contributions to this article.
The Partner Alliance for Safer Schools (PASS) is a nonprofit 501(c)(3) bringing together expertise from the education, public safety, and industry communities to develop and support a coordinated approach to making effective and appropriate decisions with respect to safety and security investments. You can download the complete PASS Guidelines or check out our PASS Safety and Security Checklist for quick tips on how to get started. These resources—as well as whitepapers on various topics including barricade devices, lockdown drills, and more—are available at no cost.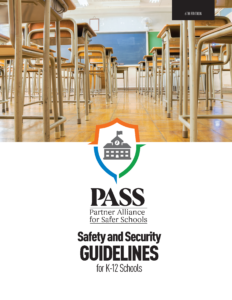 Ready to get the Guidelines?
The most comprehensive information available on best practices specifically for securing school facilities, vetted extensively by experts across the education, public safety and industry sectors.