"It's become more urgent as incidents increase and the threat landscape becomes more complex to focus on legislative efforts to fill gaps in campus safety and security." —Colby Williams, associate director of government relations at SIA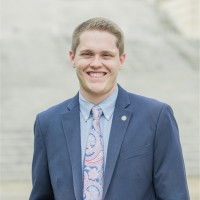 Schools should be a haven of hope and growth, where children's laughter echoes through the hallways and young minds eagerly explore their potential. Yet, our hearts are burdened by the realization that these very sanctuaries have become vulnerable to tragedy. The constant cycle of violence on school campuses, such as Uvalde and Parkland, are painful reminders that more needs to happen to create safer schools.
In the aftermath of these tragic events comes a sense of urgency to act and address school safety throughout the country. The first step is to improve school safety and security practices such as access control and video security; the next is to pass school safety legislation.
SIA's Role in School Safety Legislation
We interviewed Colby Williams, associate director of government relations at the Security Industry Association (SIA), to learn more about the surge in legislative efforts focused on enhancing school safety and security. SIA is a PASS co-founder and vital advocate for manufacturers, service providers, and integrators of electronic physical security equipment. Its mission encompasses advancing industry interests through pro-industry policies, cutting-edge market research, and more. One of its key focuses is to enhance the safety and security of schools across the country.
In addressing school safety, SIA recognizes that not all schools have access to adequate resources to implement robust security measures. As a result, SIA works to fill in the gaps by advocating for standardized school safety and security practices and grant funding to ensure that every educational institution can adopt necessary security measures to protect students and educators.
National Systems Contractors Association (NSCA) offers a helpful "Track Legislation" feature to support such efforts and spread awareness of school safety legislation. This valuable resource provides up-to-date existing and proposed school safety legislation by state, county, or municipality. Users can easily filter the content by selecting "School Safety" on the intuitive navigation bar to review bills.
Advocating for School Safety Legislation
Driven by his background in public policy and government affairs and experience teaching high school government and history, Williams' passion and knowledge make him a helpful resource for SIA and its advocacy for school safety legislation. SIA is tracking more than 300 school safety-related bills this session, Williams said. The push for school safety and security legislation is evident in recent bills passed by roughly 19 states. For instance, the Georgia Safe Schools Act mandates intruder alert drills and school safety plans, requiring schools to report these actions to the Georgia Emergency Management Agency.
Additionally, Tennessee's Strong School Safety Law takes a more proactive approach to school safety and security following the unfortunate mass shooting at The Covenant School. This law allocates $230 million to enhance school safety. It also includes several policies, such as requirements for additional emergency drills in public and private schools, locked exterior doors when students are present at public schools, and for all newly-built public school facilities, the installation of classroom door locks and secure visitor entry vestibules. School districts must also share floor plans, safety plans, and security system access with state and local law enforcement annually.
Williams emphasizes the importance of staying focused on solutions that address the unique security needs of each school rather than solely focusing on one area, such as implementing new technologies or procedures. Careful consideration and collaboration are necessary to ensure that school safety initiatives are practical, effective, and sustainable. Initiatives may include combining efforts to upgrade school security technology, implementing new security measures and safety plans, and of course, making changes on the legislative front.
SIA's Recommendations for K-12 School Safety and Security
Stakeholders, including PTA members, school administrators, and nonprofits, play a crucial role in shaping and advocating for school safety legislation. SIA works closely with behind-the-scenes partners to rally support for increased school safety grants and programs. It also spreads the word about best practices for advancing K-12 school safety, such as recommending the PASS School Safety and Security Guidelines to school districts.
In addition to collaborating with PASS, SIA offers members, clients, and organizational partners the Guide to School Security Funding. This informative guide allows school safety stakeholders to explore funding resources for security improvements. It details key federal grant programs focused on school security technology and equipment and related uses. In addition, the guide provides crucial information, including allowable costs, eligibility criteria, and guidelines for grant applications.
"Innovation is essential to this industry," Williams said. "We must ensure we're harnessing all of its benefits."
Williams also recommends that stakeholders pay attention to the benefits of technology, like artificial intelligence (AI), and how it can make schools safer.
"Technology is increasingly critical in elevating school security to new heights, and it's important to note that many of the funding grants available for school security cover the costs of AI-driven solutions, video surveillance systems, access control, and more," he said.
Funding is a significant aspect of implementing effective school safety measures. SIA's comprehensive guide is a valuable resource that helps ensure that all schools know the options available to help create safer campuses.
Stay Educated and Engaged
Legislative activity surrounding school safety continues to evolve, with more bills introduced each year to address this pressing concern. Every community must stay informed and engaged about comprehensive school safety legislation. By working together, we can ensure that eagerness for security measures translates into practical and effective solutions tailored to the unique needs of each school.
Through continuous education, engagement, and advocacy, we can forge a path toward safer schools, protecting the well-being and potential of the next generation. Download and review our School Safety and Security Guidelines to learn about best practices for creating safer schools. Also, download SIA's Guide to School Security Funding for information on available options for expanding school security efforts.
About SIA
The Security Industry Association (SIA) represents the business interests of manufacturers, service providers, and integrators of electronic physical security equipment. SIA protects and advances our members' interests by advocating pro-industry policies and legislation on Capitol Hill and throughout the 50 states, creating open industry standards that enable integration, and more.
About PASS
The Partner Alliance for Safer Schools (PASS) is a nonprofit 501(c)(3) bringing together expertise from the education, public safety, and industry communities to develop and support a coordinated approach to making effective and appropriate decisions with respect to safety and security investments. You can download the complete PASS Guidelines or check out our PASS Safety and Security Checklist for quick start tips. These resources—as well as whitepapers on various topics including barricade devices, lockdown drills, and more—are available at no cost.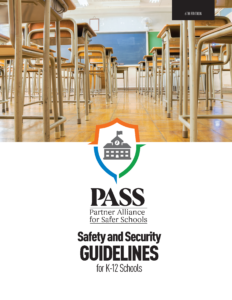 Ready to get the Guidelines?
The most comprehensive information available on best practices specifically for securing school facilities, vetted extensively by experts across the education, public safety and industry sectors.