As we end 2022, it's nice to reflect on the hard work and achievements during the year. It's also an excellent time to look forward to the work ahead in the coming year.
Significant Accomplishments in 2022
During a recent committee call, we discussed all of PASS's successes over the past year. Reviewing our accomplishments throughout the year helps to show where we're succeeding and where we can improve.
Here are some of our successes from the past year:
New PASS Partners. We're grateful for the PASS Partners we've added in 2022. If you're not yet a partner, please add us to your 2023 to-do list and become a PASS Partner!
Increased event and conference participation. We've had the opportunity to present at so many events and conferences. Plus, we've hosted numerous partner training sessions. It feels good to share what we know to help improve safety and security in schools across the country.
Improved relationships. In addition, we have good relationships with the Department of Homeland Security, the Cybersecurity and Infrastructure Security Agency and its Infrastructure Security Division, and the School Safety Task Force. As our organizations continue to work together, we can ensure we're passing along consistent and accurate information to the schools and communities that rely on us throughout the year.
Growing support from communities across the country. The many schools, agencies and non-profit organizations who have embraced and supported PASS, keep us doing what we do. It feels good to be a part of an organization valued by communities across our nation.
More volunteers than ever before. We're also grateful for our many volunteers! Our board continues to grow, our committees and councils continue to expand, and we have more trainers and subject-matter experts who want to help us than we ever could have hoped for.
It's so amazing to look back and see all these successes. What a year it's been!
A Look Ahead to 2023
As we look ahead to the New Year, we want to encourage schools to keep many things top of mind. Among them, we plan to:
Take an "all hazards" approach to your safety and security measures. This approach is essential for your upcoming preparations and planning. One of the primary tenets of PASS is that we address those daily concerns and threats. We have a checklist to help you address the basics, i.e. doors propped open, cybersecurity concerns, communications issues, proper procedures and more.
Collaborate with more groups that share our mission. We also want to do more in 2023 to collaborate with groups like the American Institute of Architects (AIA), ASIS International and others. If you have a school safety committee looking for more input, don't hesitate to reach out, so we can work together.
Better utilize the media. We want to start engaging the media to brief them on the key issues, research, resources, toolkits, etc., from PASS.
Assist schools in finding funding for safety and security upgrades. There's lots of new funding available, and we want to help schools learn where to find it and how to apply for it.
Share information from our committees. When our committees meet, they often share their goals and action items with our board. This is great, but the information is also helpful to others. We'll share that information on social media, at events, larger group meetings and at press functions, such as ISC West, when appropriate.
Add new website features. Furthermore, we're adding two new features to the PASS website; a donor page with various levels of giving and a speaker/training request page where our subscribers can request a specific type of subject-matter expert to attend an event or webinar.
What's on your list of things you hope to improve or accomplish in 2023? If there's anything PASS can help you with or collaborate on, don't hesitate to reach out. In the meantime, we wish you a bright and healthy New Year!
Contributors: PASS thanks Board Chair Chuck Wilson, Board Members and the Outreach Committee for contributing to this article.
The Partner Alliance for Safer Schools (PASS) is a nonprofit 501(c)(3) bringing together expertise from the education, public safety, and industry communities to develop and support a coordinated approach to making effective and appropriate decisions with respect to safety and security investments. You can download the complete PASS Guidelines or check out our PASS Safety and Security Checklist for quick tips on how to get started. These resources—as well as whitepapers on various topics including barricade devices, lockdown drills, and more—are available at no cost.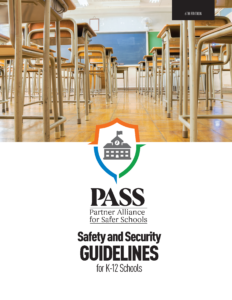 Ready to get the Guidelines?
The most comprehensive information available on best practices specifically for securing school facilities, vetted extensively by experts across the education, public safety and industry sectors.