The PASS Guidelines are featured on the cover of the March/April 2023 issue of Campus Security & Life Safety magazine as part of the cover story, "PASS Guidelines Provide Advice on Safely Securing K–12 Schools," by Ron Baer. The article provides background on PASS as an organization before delving into an overview of what's included in the guidelines. It also gives a preview of what's ahead in the release of the sixth edition.
Below is an excerpt from the article.
To illustrate just how valuable PASS has become, its content and information have been shared with agencies such as the Department of Homeland Security, Department of Education, the School Safety Task Force, and the Cybersecurity and Infrastructure Security Agency. PASS has developed strong relationships with these agencies, and the guidelines have been recognized by policymakers and subject matter experts at both the state and federal levels.

What the PASS Guidelines Include

The guidelines cover topics ranging from risk assessment and strategies for formulating a comprehensive plan (including how to best assemble a security planning team) to safety and security components, technological solutions, and much more.
Read the full article to learn more.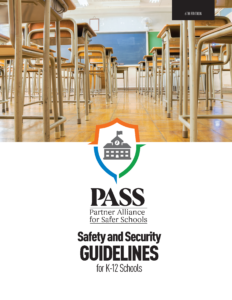 Ready to get the Guidelines?
The most comprehensive information available on best practices specifically for securing school facilities, vetted extensively by experts across the education, public safety and industry sectors.