The PASS School Security Guidelines are featured in the September/October 2023 issue of Campus Security Today magazine as part of the article, "Lockdown Strategies: Unique for K–12 and Higher Education," by Jeremy Saline and Ron Baer, both of Assa Abloy Opening Solutions, a PASS Partner organization.
The article offers an overview of the Sixth Edition of the PASS Guidelines, including information about access control systems equipped with remote lockdown capabilities.
Below is an excerpt from the article.
Along with a detailed, layered, and tiered approach covering the full gamut of best practices, the guidelines include important recommendations on lockdown strategies and how to design and conduct lockdown drills.
Read the full article to learn more.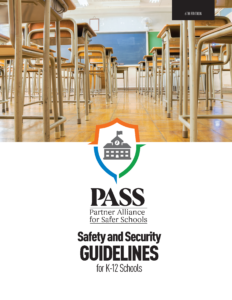 Ready to get the Guidelines?
The most comprehensive information available on best practices specifically for securing school facilities, vetted extensively by experts across the education, public safety and industry sectors.