School is back in session, and in the 20 years after the tragic shooting at Columbine High School in Littleton, Colorado, there have been many other incidents in schools across the country and schools are still challenged to effectively protect students, faculty, staff and visitors.
Partner Alliance for Safer Schools (PASS) Chairman Guy Grace, who serves as director of security and emergency planning at Littleton Public Schools, was featured in Mediaplanet's September 2019 School Readiness campaign sharing key school security and safety lessons we have learned since Columbine. In his piece, Grace highlights the importance of approaching safety and security from the district level, implementing layered security, leveraging radio communications and more. Check it out here.
For more detailed guidance on protecting your school, district and community, see the full PASS Guidelines.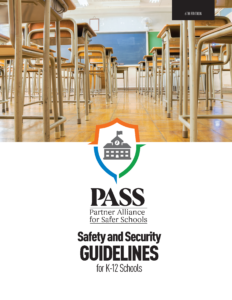 Ready to get the Guidelines?
The most comprehensive information available on best practices specifically for securing school facilities, vetted extensively by experts across the education, public safety and industry sectors.