Sixth-edition guidelines are streamlined, easy-to-use best practices addressing the evolving security challenges facing today's schools.
SILVER SPRING, Md. – The Partner Alliance for Safer Schools (PASS) has released the sixth edition of its Safety and Security Guidelines for K-12 Schools, which offer the most comprehensive information available on nationwide best practices specifically for securing school facilities, from subject matter experts across the education, public safety and industry sectors.
The sixth-edition release—including updates to the Safety and Security Guidelines and the School Safety and Security Checklist—improves on previous versions of the PASS guidance to make it more streamlined, easier to use and more reflective of K-12 schools' evolving security needs and challenges.
The PASS school security and safety guidelines provide school administrators, school boards and public safety and security professionals with a road map for implementing a layered and tiered approach to enhancing the safety of school environments and a tool to prioritize needs. Provided free of charge, the guidelines have been downloaded by thousands of stakeholders and leveraged in many districts to evaluate and improve security infrastructure and procedures. New to the sixth-edition guidelines are the following features:
More focused best practice recommendations to identify needed areas of improvement by separating the tier continuum practices that are already required by federal law or regulation or are already uniformly implemented throughout the U.S.
Redesignated tiers for clarity, which recommend that all schools and districts work toward Tier One measures regardless of location, budget or risk profile. If Tier One measures are in place, all should work towards Tier Two. Tiers 3 and 4 measures may be needed depending on an assessment from the core security team.
Enhancements to the section on classroom security, a critical area for school safety. This section is simplified and updated with current terminology, illustrations and recommendations consistent with modern, code-compliant door hardware and access control equipment.
A new Enhanced Technologies section detailing solutions under consideration by many schools and districts that show potential for making significant improvements to school safety but may not yet be widely adopted. These include newer technologies in the areas of weapons detection, analytics, emergency communications and biometrics.
"Facility security measures are a critical part of protection, mitigation and response and to keeping our schools safe," said Jeremy Gulley, superintendent of Jay School Corporation. "The latest version of the PASS Safety and Security Guidelines reflects and addresses the most current threats facing K-12 schools and offers robust information and best practices for those of us in the education community on how we can better secure our schools."
In 2020, the PASS guidelines were included on SchoolSafety.gov, the federal government's clearinghouse for best practice information across a range of school safety topics, and in 2019 PASS was recognized by the Federal Commission on School Safety as well as in other state commissions and reports.
The guidelines describe approaches within five physical layers for school facilities: districtwide, the property perimeter, the parking lot perimeter, the building perimeter and the classroom/interior perimeter. Within each layer, the resource outlines key safety and security components, such as policies and procedures, people (roles and training), architectural components, communication, access control, video surveillance and detection and alarms.
These guidelines are designed to provide stakeholders with specific actions that can effectively raise the baseline of security, vetted security practices specific to K-12 environments, objective and reliable information on available safety and security technology, multiple options for addressing security needs and the ability to distinguish needed and effective solutions from sales pitches or unnecessary products.
The latest guidelines are available at no cost on the PASS website along with a matching checklist tool, and PASS encourages education professionals, public safety personnel and security solutions providers to take advantage of these free resources. To learn more about PASS or to become a partner in support of its mission to protect schools, visit passk12.org.
About PASS
First established in 2014, the Partner Alliance for Safer Schools (PASS) is a 501c3 nonprofit organization that brings together expertise from the education community, public safety and the security industry to develop and support a coordinated approach that can assist school administrators in making effective use of proven security practices specific to K-12 environments. The mission of PASS is to provide school administrators, school boards and public safety and security professionals with information, tools and insight needed to implement a tiered approach to securing and enhancing the safety of school environments based on their individual needs, nationwide best practices, and making the most effective use of resources available. In 2020, the PASS Advisory Council was formed to incorporate a broad range of stakeholder perspectives and expertise. The PASS guidelines, checklist and other informational resources are available at passk12.org.
Media Contact
Kara Klein
Manager of CommunicationsSecurity Industry Association
kklein@securityindustry.org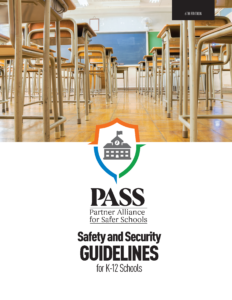 Ready to get the Guidelines?
The most comprehensive information available on best practices specifically for securing school facilities, vetted extensively by experts across the education, public safety and industry sectors.