SchoolSafety.gov – the new school safety website from four U.S. federal government agencies – highlights the Partner Alliance for Safer Schools' guidelines.
SchoolSafety.gov – the newly launched school safety website from the U.S. departments of Education, Health & Human Services, Homeland Security and Justice – features the Partner Alliance for Safer Schools (PASS) school security guidelines as a recommended resource for developing and implementing plans for physical security in schools. The site presents the fourth-edition PASS Safety and Security Guidelines for K-12 Schools alongside several government-developed resources as its only non-government resource.
The PASS guidelines provide school administrators, school boards and public safety professionals with best practices for implementing a layered, tiered approach to school safety and security. Established in 2014 and led by a multidisciplinary team of volunteers, PASS brings together expertise from the education community, law enforcement and the security industry to develop and support a coordinated approach that can assist school administrators in making effective use of proven security practices specific to K-12 environments, including elementary, middle and high schools.
"I have used the comprehensive PASS guidelines to help secure my district's buildings in an all-hazards model and found them to be the most effective and commonsense security infrastructure recommendations available for schools," said Guy Grace, PASS chairman and director of security and emergency planning for Littleton Public Schools. "PASS has done great work over the years sharing this information across the country to various school safety stakeholders but will now reach even more of them with the new SchoolSafety.gov website. I am very thankful to our government and others who have created this website to help school officials like myself keep our staff, students and communities safe."
SchoolSafety.gov – designed as a one-stop clearinghouse for resources to help K-12 administrators, educators, parents and law enforcement prepare for and address threats related to school safety, security and support – was created to reflect the recommendations of the Federal Commission on School Safety established by the Trump administration to review safety practices and make meaningful and actionable recommendations of best practices to keep students safe. The launch represents the first phase of SchoolSafety.gov, which will expand and refine resource materials in coordination with partners and stakeholders.
SchoolSafety.gov's additional resources include:
The School Safety Readiness Tool, an assessment that assists users in evaluating their respective schools' safety postures across 10 foundational elements of school safety
A secure information sharing platform for designated school personnel to share school safety ideas, practices, plans and tactics in a protected environment
A wide array of resources and best practices on key school safety topics to assist with building awareness within the school community to promote vigilance and build capacity to respond to incidents
"Studies show our children's learning improves when they feel safe," said Mark Williams, vice chairman of PASS. "The PASS Guidelines and School Safety and Security Checklist continue to be recognized, nationally and internationally, as a standard for helping schools navigate the complexity of implementing a layered and tiered approach to enhancing the safety and security of their environments."
The PASS guidelines and resources are tools for objective analysis by school officials, community stakeholders and solutions providers for assessing their current state and prioritizing school safety and security needs. The PASS Safety and Security Guidelines and School Security Checklist are provided at no charge as part of the mission to improve school safety and security. For more information, visit passk12.org.
Media Contact
Kara Klein
301-804-4704
kklein@securityindustry.org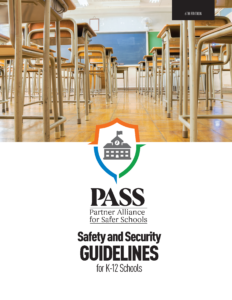 Ready to get the Guidelines?
The most comprehensive information available on best practices specifically for securing school facilities, vetted extensively by experts across the education, public safety and industry sectors.