The Partner Alliance for Safer Schools (PASS) is proud to welcome Chuck Wilson as the new chair of the PASS Advisory Council. Wilson has over 40 years of experience in the communications, security, and life safety business, including 26 years with the National Systems Contractors Association (NSCA), where he currently serves as Chief Executive Officer (CEO). If it involves systems integration, surveillance, access control, or communications systems, Wilson's your guy. He is proud to lead PASS at a time when our country needs it most.
Wilson assumed the role after Mark Williams retired earlier this year.
"Mark brought incredible leadership and wisdom to PASS and I hope he continues to be a part of the organization," Wilson said.
A Momentous Visit
Wilson helped found PASS back in 2014 after a momentous work trip to Chicago, where he was giving an emerging technology talk on behalf of NSCA. After the talk, a woman from the audience approached him and said, "I don't think you understand what it's like to be at an inner-city school." She then invited him to visit Harper High, a public school experiencing a great deal of violence and crime against both students and faculty.
"I had this moment where I thought, 'I could be home by dinner if I leave now, or I could visit this school and witness firsthand the challenges they're having.' Something told me I should go do that. I'm so thankful I stayed and got to experience what I did."
Harper High was notorious for high gang activity and low graduation rates. In 2012, just one year before Wilson's visit, the school lost eight students in a single school year due to gun violence.
"That trip was an eye-opening experience and helped guide the PASS development team to account for the vast differences in how schools are built, the rural or urban setting, the vulnerabilities and the challenges for school officials to make every teacher and student feel safe," Wilson said.
Inspired by just having met Michele Gay, founder of Safe and Sound Schools and current PASS Advisory Council member, shortly after the Sandy Hook School tragedy, he stayed, learned, and listened, moved by the administration's and faculty's desire to make the school safer.
"This was an amazing group of kind and caring educators with no funding for technology or knowledge of where to start," Wilson said.
There was no guideline or metric for school security at the time. For many students, Harper High was the safest place they had been all day. "We're just trying to help these kids survive," school administrators told Wilson. As Wilson left the school, the principal asked if he could give them a roadmap or playbook on how to get started implementing safety measures.
Welcome PASS: The "Most Important Project"
Wilson's tour of Harper High was a turning point for him. He immediately contacted every school safety expert he knew, and on July 15, 2014, a small but determined group of founders brought together security industry professionals, school officials, and law enforcement officials to develop a coordinated approach to protecting K-12 students and staff.
"We adopted the acronym PASS," Wilson said, "and the first real guideline was developed that day using the now widely-accepted layered and tiered approach to school safety and security."
"We're about leadership for our profession: what's emerging, what's coming, and how it will affect us," Wilson said. "It would be the most important work of our entire careers if we could save even just one life."
Using the best industry knowledge, the PASS founders compiled a set of Guidelines to serve as a reference for schools, covering topics like risk assessments, school safety policies and procedures, and how to set up a school safety and security plan. First published in 2015, the Guidelines are updated annually to reflect the latest industry research and standards. In its fifth and most recent edition of the Guidelines, PASS covers topics like vape detection technology and artificial intelligence object detection, and the sixth edition is already underway.
Unfortunately, PASS's efforts were not enough to save Harper High School, which officially closed its doors in June of 2021. But Wilson keeps pushing forward, visiting inner-city schools in major cities such as Philadelphia, Atlanta, Birmingham, and New Orleans.
One of the most gratifying moments for Wilson happened recently after one of his NSCA Technology presentations in New Orleans. During the Q&A, a member of the audience—not realizing Wilson's affiliation—raised his hand and told Wilson, "You need to go talk to PASS. All of our schools use that as our technology roadmap."
Together We Can
Help us keep the work going. PASS is committed to seeking the very best solutions for the extremely complex situation faced by K-12 schools today. Our PASS Guidelines and Checklist, provided at no cost, are formulated based on industry best practices and recommendations. Introduce the Guidelines to your school, or contact us if you want help getting started.
The Security Industry Association (SIA) is the leading trade association for global security solution providers, with over 1,200 innovative member companies representing thousands of security leaders and experts who shape the future of the security industry. SIA provides education, certification, standards, advocacy and influential events which connect the industry.
The Partner Alliance for Safer Schools (PASS) is a nonprofit 501(c)(3) bringing together expertise from the education, public safety, and industry communities to develop and support a coordinated approach to making effective and appropriate decisions with respect to safety and security investments. You can download the complete PASS Guidelines or check out our PASS Safety and Security Checklist for quick tips on how to get started. These resources—as well as whitepapers on various topics including barricade devices, lockdown drills, and more—are available at no cost.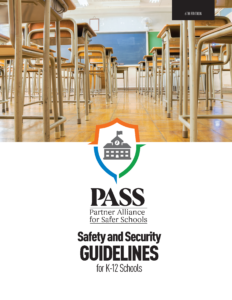 Ready to get the Guidelines?
The most comprehensive information available on best practices specifically for securing school facilities, vetted extensively by experts across the education, public safety and industry sectors.