It's always important to have school administrators participate in PASS leadership roles. As end users, they can tell us how our recommendations work in the real world, and their feedback is invaluable. That's why we're excited to welcome Jeremy Gulley, as the newest member of our Board of Directors and Advisory Council.
Gulley is the superintendent of Jay School Corporation in Portland, Ind. It's the fifth largest school district in the state by size, with five elementary schools and one junior/senior high school. According to Gulley, there are about 3,000 students whose lives are safer thanks to the PASS's guidelines and recommendations.
Taking Proactive Measures
"Around the same time the Parkland School shooting happened, I became superintendent," Gulley recalled. "I was fairly new at the job and didn't have the expertise the PASS organization brings, so I searched online for help, and that's when I found PASS."
The guidelines and checklist were the first resources Gulley put to work for his district.
"I was immediately able to use them to make decisions, plan, and inform teams, first responders, and community leaders," he said. "The PASS framework gave us a really good start."
As a parent and an administrator, Gulley is determined to do everything he can to keep students safe. His goal is to protect them while maintaining a warm and welcoming environment, where life feels normal.
Gulley also recently retired from the Indiana Army National Guard. His military service gives him a unique perspective when it comes to security, he said.
"We focus on prevention and provide ways for our school to report concerns anonymously," he said. "We used PASS guidelines to make changes to our school, such as single entry points, layered security, door locks, etc."
The school district's response system allows staff to press a button on their badge to create an instant lockdown and alert first responders, he said.
---
Jeremy Gulley
Role: Superintendent, Jay School Corporation, Portland, Ind.
Hometown: Montpelier, Ind.
Years in Education: 27
Experience: Gulley worked as a teacher, dean of students, principal, and assistant superintendent. He's also a retired lieutenant colonel for the Indiana Army National Guard, where he served for 29 years.
What he enjoys most about his job: "Working with good people to make life better for kids."
Family: Wife Jennifer and children Liam 22, Connor 20, and Evelyn 14.
---
Utilizing the PASS Guidelines
Gulley sees the PASS Guidelines saving lives in his schools all the time.
"Our anonymous reporting systems have saved about a half dozen kids because of our ability to receive information anonymously through an app provided by Sandy Hook Promise," he said. "These kids were very close to taking their own lives, so it certainly has made a difference."
Other security measures that have made a difference are mass notification systems and the ability of staff to rapidly lock down their schools. Gulley recalled an occasion when an employee witnessed students and a teacher experiencing medical emergencies. That employee immediately notified 911 dispatchers using a button on their school badge. With geo-location capabilities, dispatchers directed first responders to the employee's location.
"Tying our schools to the 911 center makes for a much quicker response, which is not only important in a potentially violent situation, but also to respond to medical emergencies as well," Gulley said.
Making School Safety a Priority
The National Sheriffs' Association (NSA) recently recognized Gulley and the Jay School Corporation for their school safety improvements. The school district was recognized for "their current efforts in implementing and maintaining school safety, security, and emergency preparedness during the school year," according to the association.
It's an honor that Gulley is proud of.
"We have schools, like most schools, built in various decades when school safety wasn't such a concern, so now we have to make renovations to keep up with the times," Gulley said.
Finding Resources for Renovations
Making renovations to old school buildings costs money as well. Gulley and other district officials went after funding anywhere they could find it, including local, state, and national sources.
"Many states have school safety grants, which we used along with our service fund from local taxes to make physical improvements to our schools as we renovate them," Gulley said.
In addition, his district used the Common School Loan, a low-interest loan backed by the state government. With district leaders who were focused and committed to mobilizing community support, they were able to make improvements immediately after the Parkland tragedy.
"You can do a school safety referendum in Indiana," Gulley said. "It can be placed on the ballot in the election and voters can approve raising taxes for school safety. Our parents are rightfully concerned about school safety. They've seen the horrific events at Sandy Hook, Parkland, and Uvalde. Our parents are ready and willing to support us in making their child safer."
Contributors: PASS thanks Jeremy Gulley of Jay School Corporation, the PASS Board of Directors, and the PASS Advisory Council, for his contributions to this article.
The Partner Alliance for Safer Schools (PASS) is a nonprofit 501(c)(3) bringing together expertise from the education, public safety, and industry communities to develop and support a coordinated approach to making effective and appropriate decisions with respect to safety and security investments. You can download the complete PASS Guidelines or check out our PASS Safety and Security Checklist for quick tips on how to get started. These resources—as well as whitepapers on various topics including barricade devices, lockdown drills, and more—are available at no cost.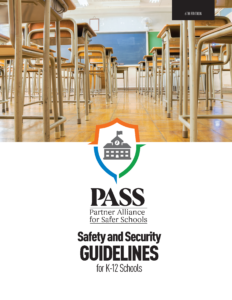 Ready to get the Guidelines?
The most comprehensive information available on best practices specifically for securing school facilities, vetted extensively by experts across the education, public safety and industry sectors.