We know many of you regularly practice active shooter drills on your campuses, but when it comes to security disasters and other emergencies, are you prepared?
September is National Preparedness Month, an excellent time to review the PASS Guidelines. It's also why we want to highlight the work of one of our partners, the Security Industry Association (SIA). The organization educates its members to help ensure better preparation for managing security disasters should they occur on their campuses.
We talked with Jake Parker, Senior Director of Government Relations for SIA and a PASS board member, about what he does to advocate for more protection in schools through effective security measures. He also explains what SIA is doing to help security industry professionals and its members prepare for security disasters.
Q: Tell us about your role with SIA.
A: My primary responsibility is leading the development of the association's legislative and regulatory programs in support of our industry's mission of protecting people from harm through effective security measures.
Q: What kind of education does SIA provide to its members?
A: SIA provides hundreds of educational seminars at its events throughout the year, which are designed for developers, installers and integrators of security solutions, as well as end-users such as K-12 personnel, architects and consultants. We have also created the RISE Community to support young professionals entering the industry, as well as the Women in Security Forum to support the increased involvement of women in the industry and as security professionals through specialized educational opportunities.
Q: What certifications are available?
A: Our Certified Security Project Manager (CSPM) program offers the only credential that addresses the unique demands of a security project manager. SIA also provides the Security Industry Cybersecurity Certification (SICC), which is the industry's only credential focused specifically on cybersecurity for physical security systems.
Q: What is your organization currently advocating for?
A: As far as shaping the industry, among many other initiatives, we're supporting efforts to bolster workforce recruitment that increases diversity in the workforce, and career opportunities for women, including through the Foundation for Advancing Security Talent that connects employers and job seekers, as well as expanding apprentices opportunities. SIA also works with stakeholders to develop best practices for security across a wide range of sectors, from public transportation to health care and many others. As a co-founder of PASS, SIA is committed to supporting initiatives that enhance the safety and security of schools. Regarding policy, we support government actions that can increase cybersecurity and help protect infrastructure, including funding critically needed for school safety measures provided in the recently enacted Bipartisan Safer Communities Act.
Q: Are there any upcoming events that your members should know about?
A: Educational seminars at SIA-sponsored events like ISC East (Nov. 15–17), ISC West (March 28–31, 2023) and GovSummit (May 16–17, 2023) are designed to benefit solution providers, security professionals and end-users alike.
Q: For those who aren't members, what's the biggest reason they should consider joining?
A: As a network of more than 1,200 innovative companies, SIA represents tens of thousands of industry leaders and experts who shape the future of security and provides so many ways to connect with the people and resources you need to be successful. Joining can advance your company and move your career forward by connecting you with advocacy programs, peer connections, events, top-tier education programs, technology and standards activities, research, and publications. Joining helps build relationships with others in the industry that not only yield tangible benefits but also support common goals that transcend day-to-day business. Whether you're a multinational manufacturer of security solutions, an independent systems integrator, a small consulting company or a startup looking to excel, SIA has a place for you.
Q: Funding is one of the most prominent challenges schools face regarding security. What are some of the surprising places you've seen schools obtain the funds they need for their security goals?
A: SIA's Guide to School Security Funding was published to help identify many of the funding sources available. One of the more surprising is the FCC's E-Rate program. Broadband high-speed internet and related networking infrastructure have tremendously enhanced classroom instruction and other capabilities. This same infrastructure also enables connected security devices. Virtually all security solutions depend at least in part on physical network infrastructure, the most important of which is power-over-ethernet (POE) cabling. Public schools can utilize the federal E-Rate program to fund the expansion of POE infrastructure, along with other network infrastructure and communications needs, which can, in turn, help offset and lower the overall cost of security projects that require additional cabling.
Between PASS and SIA, there are numerous opportunities to ensure your security staff have the education they need to prepare for security disasters of any kind on your campus. Take some time to review the PASS Guidelines this month. Also, look for resources provided by other PASS Partners, which can help you stay up-to-date on the latest and most effective security measures.
Contributors: PASS thanks Jake Parker of SIA for his contributions to this article.
The Partner Alliance for Safer Schools (PASS) is a nonprofit 501(c)(3) bringing together expertise from the education, public safety, and industry communities to develop and support a coordinated approach to making effective and appropriate decisions with respect to safety and security investments. You can download the complete PASS Guidelines or check out our PASS Safety and Security Checklist for quick tips on how to get started. These resources—as well as whitepapers on various topics including barricade devices, lockdown drills, and more—are available at no cost.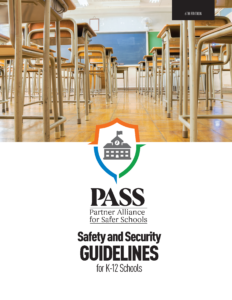 Ready to get the Guidelines?
The most comprehensive information available on best practices specifically for securing school facilities, vetted extensively by experts across the education, public safety and industry sectors.