"There's no better use of a person's expertise than to use it to improve the safety of our kids. It's a privilege to play the small role that I do." —Tom LeBlanc, executive director at the National Systems Contractors Association and PASS Advisory Council member
For years, the absence of a standardized guideline for ensuring safety and security in schools nationwide has been a growing concern. Parents are worried that a tragedy may occur on a school campus, and if it does, schools may be unprepared. The lack of a unified approach has often left schools and their staff struggling to navigate the complex landscape of school safety, making the PASS School Security Guidelines a valuable resource. They offer a plan of action, helping fill the gap and provide schools with a comprehensive framework to enhance security measures.
As we work to share these recommendations with school districts, Massachusetts, in particular, is making strides toward embracing the PASS Guidelines wholeheartedly. We connected recently with Tom LeBlanc, the executive director of the National Systems Contractors Association (NSCA) and a member of the PASS Outreach Committee. LeBlanc has been a valuable partner in expanding the guidelines in Massachusetts, where schools and public safety associations are increasingly adopting the instructions.
How Tom LeBlanc Joined the Fight
Before his involvement with NSCA, an association representing the commercial low-voltage and electronic systems industry, LeBlanc was already familiar with PASS and admired its mission to enhance school safety and security. He initially worked as an editor for a publication that covered technology in K-12 schools, which led to his connection with NSCA. During this time, LeBlanc developed a relationship with PASS due to his interactions with Chuck Wilson, one of the organization's co-founders.
LeBlanc eventually transitioned to his current position at NSCA in early 2020. There, he develops materials for businesses that offer technology and security solutions to clients in various commercial markets, including K-12 schools. The same year, he joined PASS as an Outreach Committee member, specializing in circulating news and analyzing the organization's activities. Sparked by the Sandy Hook tragedy and Michelle Gay's account of the shooting during an NSCA Business & Leadership Conference, LeBlanc has remained active with PASS due to his commitment to the cause and interest in becoming more involved.
As a father of two K-12 students in Massachusetts and in a role that supports the security industry, LeBlanc feels he's in a position where his experience can help spread the word on how the guidelines can make a difference in school safety and security. "There's no better use of a person's expertise than to use it to improve the safety of our kids. It's a privilege to play the small role that I do," he said.
His aspiration to see PASS Guidelines adopted in as many schools as possible is not just a professional commitment but a deeply personal one. He envisions Massachusetts setting an example for the nation by prioritizing school safety, with the hope that other states will follow suit.
A Step Toward Safer Schools in Massachusetts
As we talked with LeBlanc, we learned more about how Massachusetts is implementing PASS Guidelines. He believes that because the guidelines were developed with the help of individuals with diverse viewpoints and experience, this has made it easier to understand how they can establish a standard for all the parties involved. The adoption of PASS in Massachusetts is a testament to this. LeBlanc said, "The people I speak with generally like that the guidelines create a level playing field. Schools of all budgets can find solutions by working with the guidelines. One of the striking aspects of PASS is its non-political nature, which fosters a collaborative environment where stakeholders can focus on one common goal—safeguarding our schools. This allows us to cast a wider net."
PASS Gets Buy-In From Leaders in Public Safety and Education
Collaboration and coordination—these two actions are crucial to stakeholders when implementing the PASS Guidelines, as emphasized by LeBlanc. Throughout his work with PASS, he has met with various associations and individuals in the public safety sector, including the Massachusetts Chiefs of Police Association (MCOPA), whose approval and recommendation of the guidelines speaks volumes to how they provide a viable framework to enhance school safety and security.
This organization promotes cooperation and the sharing of information and experience among police leaders and organizations with recognized professional and technical standings throughout the Commonwealth. Within the organization, there is a subcommittee dedicated to school safety. The School Safety and Security Committee includes 25 police chiefs from across the state and representatives from school superintendents. They aim to utilize their extensive law enforcement experience to offer well-researched best practices in safety and security to school systems that lack internal expertise in this area.
In late 2022, the MCOPA released a School Safety and Security Best Practices Guide, which suggested using the PASS Guidelines and methodology. This guide was available for download on their website, and they directed those interested to visit the PASS website. The MCOPA also spoke to a group of school superintendents at a regional meeting in 2023 and offered to help with implementation. The Massachusetts Association of School Superintendents (MASS) also distributed copies of the guide to all their members.
MCOPA conducted a comprehensive literature review on school safety and security before making any recommendations. The review showed that much of the literature was theoretical. Although several federal entities had some information on the topic, it needed to be more detailed to offer practical options. The committee discovered that PASS provides practical advice and a clear methodology for implementation, which they considered the best option.
"Everyone agrees on the ultimate result—which is increased safety. I suggest a group approach or task force of interested parties. Explain that the intention is to follow the PASS best practices and ask for input on how to implement instead of what to implement. By being inclusive and asking how to implement a national best practice, you can avoid the egos that often dominate groupthink," said Marc Montminy, Uxbridge, MA, chief of police and MCOPA School Safety and Security subcommittee member.
The Support for PASS in Massachusetts Continues to Grow
LeBlanc has worked to encourage schools across Massachusetts to adopt the PASS Guidelines. PASS has received ample support from numerous organizations, including the Massachusetts Department of Fire Services (DFS), the Executive Office of Public Safety and Security (EOPSS), and the Municipal Police Training Committee (MPTC). "This collaboration and coordination is important. We're starting to see the momentum in Massachusetts," said LeBlanc.
The EOPSS adopted NFPA 3000, the National Fire Protection Association's Standard for an Active Shooter/Hostile Event Response (ASHER) Program, as Massachusetts' statewide framework. It is scalable and applicable to any jurisdiction, including a school setting. As part of that framework, the Massachusetts Firefighting Academy (MFA), MPTC, and State Police Academy are training law enforcement and fire/rescue personnel on integrated response to active shooter events and related incidents.
The DFS has multiple responsibilities, including supervising the Fire Academy and its training. It also advises municipal fire chiefs who enforce the state fire code. Similarly, DFS collaborates with the Department of Early & Secondary Education to ensure that school districts and administrators know and comprehend the code's provisions. Jake Wark, a spokesperson for DFS, confirmed that the PASS guidelines, which cover critical topics such as communicating with local fire and police departments and retrofitting barricades, comply with state standards.
The impact of the PASS Guidelines on school safety in Massachusetts is evident in the words of individuals like Allan Cameron, Ph.D., the superintendent of Wrentham Public Schools. The guidelines have become a trusted compass for educators and public safety officials, guiding them toward safer and more secure school campuses. Dr. Cameron envisions these guidelines as the bedrock of a layered approach to school safety and security.
The Road Ahead: A Snowball Effect of PASS Guidelines Adoption
A sentiment echoed by LeBlanc and public safety officials and school administrators in Massachusetts, the PASS Guidelines are significant for their ability to unite various stakeholders to enhance school safety and security. They promote a team-based approach encouraging individuals to contribute their unique expertise and prioritize proven resources and practices.
As we witness the steady momentum in Massachusetts, we are reminded that state lines do not confine the pursuit of secure learning environments but resonate nationwide. Each step forward, each adoption of PASS Guidelines, adds to a movement that reshapes the educational landscape with the promise of enhanced security.
The story of PASS Guidelines taking root in Massachusetts demonstrates hope, collaboration, and the determination to create a safer future for every child. As communities across the nation continue to prioritize the safety and security of their schools, we find ourselves at the forefront of a movement reshaping the education landscape, one guideline and school at a time.
Please join us on this journey by downloading the guidelines today.
About PASS
The Partner Alliance for Safer Schools (PASS) is a nonprofit 501(c)(3) bringing together expertise from the education, public safety, and industry communities to develop and support a coordinated approach to making effective and appropriate decisions with respect to safety and security investments. You can download the complete PASS Guidelines or check out our PASS Safety and Security Checklist for quick start tips. These resources—as well as whitepapers on various topics including barricade devices, lockdown drills, and more—are available at no cost.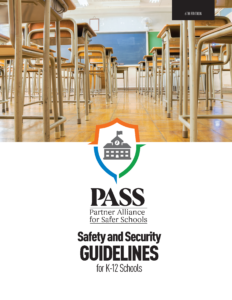 Ready to get the Guidelines?
The most comprehensive information available on best practices specifically for securing school facilities, vetted extensively by experts across the education, public safety and industry sectors.