"When I was a teacher and stay-at-home mom, safety was important to me. But I really looked at it mostly as someone else's job. I learned—too painfully—that's not the truth. Each and every one of us in the community has to be educated and has to be a part of making sure our schools are safe."

— Michele Gay, Founder, Safe and Sound Schools
"School safety is a process, not a product." That's Michele Gay, founder and executive director of Safe and Sound Schools, a national nonprofit specializing in school safety and advocacy. Safe and Sound was founded around the same time as PASS, both with similar motivations: the free transmission of information in order to connect communities and leaders with the best resources available when it comes to school safety and security.
After every school shooting, organizations like PASS and Safe and Sound Schools continue working behind the scenes to keep schools safe, long after media coverage has stopped. Nevertheless, as recent events have made clear, the entire community has to work together in order to have the greatest impact. Read on to learn more about Safe and Sound Schools and what you can do to take a more active role in school safety and security.
What is Safe and Sound Schools?
Safe and Sound Schools was created in 2013 by Michele Gay and co-founding partner Alissa Parker after their daughters, Josephine and Emilie, were lost in the Sandy Hook School shooting of 2012. "I used to think school safety was someone else's job," Gay says in a FEMA PrepTalk introducing Safe and Sound Schools. "I learned—too painfully—that's not the truth. Each and every one of us in the community has to be educated and has to be a part of making sure our schools are safe."
There's no doubt that school safety and security is a complex topic, with various organizations and interest groups tackling the issue from different angles. "Naturally, we gravitate towards what we're good at," Gay says. These siloed interest groups, however, can inadvertently create an imbalance in school safety, which can lead to security gaps.
While one of the cornerstones of school safety and security is definitely physical—doors, locks, security, technology—there's an equally important "softer side" to school safety, Gay says, that's related to the culture and climate of schools and communities. Gay often observes a "tug-of-war" happening between these two realms, but school safety and security isn't relegated to one or the other, she says. It's both.
Safe and Sound's comprehensive framework identifies six key components to school safety and security: mental and behavioral health; health and wellness; physical safety and security; culture, climate, and community; leadership, law, and policy; and operations and emergency management.
Bringing these components together isn't about being the expert in all six, but rather partnering with the experts. "I'm not an expert," Gay admits, "I just know a lot of them. And I'm lucky to work with experts across all disciplines."
That's where partnerships with organizations like PASS come in. "PASS is our go-to for anything related to physical safety and security," says Gay. "We know we have the experts that can help answer those questions and provide resources to our schools."
School Safety and Security: It Takes a Village
Despite the recurring nightmare that happens with every new shooting, Gay says there have been more averted incidents than ever before. These success stories often involve a Student Resource Officer in the right place at the right time; or a teacher hugging a student; or a relationship between a child and a school counselor, or a well-trained safety team that knew when to intervene. All of these relationships make up the wider culture of a school, and demonstrate how school safety and security really is a concerted effort amongst all members of the community.
The frustrating part, Gay says, is that these "near misses" aren't as widely publicized as the tragedies. Many communities who experience an active shooter scare don't often broadcast it because they're trying to avoid panic within the community, or they're worried about the notoriety or negative press that comes with a violent incident.
Gay would like to see that change. "Our communities need to know what works because if they don't, they're not going to advocate for those things." It's good news when people are trained and well equipped, and as a result, an attack is prevented and a child's life is saved.
5 Questions You Should Ask About School Safety and Security
These success stories come from communities that are prepared and working together: students, parents, teachers, Student Resource Officers, custodians, lunch ladies, counselors—everyone has to be involved. Here are five questions everyone should ask about school safety and security:
1. Does Your School Have a Current School Safety Policy?
Your school's safety and security policy should involve an emergency operations plan (EOP) and security plan. Comprehensive plans—and the policies and procedures to implement them—form the foundation of school safety and security. Without proper policies and procedures in place, it is impossible to successfully use security technology and other security measures, regardless of how advanced they may be. Effective policies and procedures alone can mitigate risks, and there are often no costs associated with implementing them.
The PASS Guidelines include essential security-specific policies and processes, broken down by the five layers of school safety and security (district-wide, property, parking lot, building, and classroom/interior; see Guidelines for details).
2. What Drills Are in Place to Help Students and Staff Respond to Emergencies?
As the widespread success of fire drills has demonstrated, drills are critical to the success of your school's emergency response both for students and teachers. The need for "lockdown" drills has grown due to the unique circumstances of an active shooter event. Whether in a school, business, or other public space, best practices now dictate having a lockdown protocol as the major component of an effective safety plan when escape is not possible. Schools should keep the age of their students in mind when designing exercises and training. The PASS Guidelines include recommendations for how to conduct lockdown drills, as well as tips on how to design a drill that works best for your school.
3. Does Your School Have a Team Assigned Specifically to Student Safety?
Your school should have a safety and security team that comprises, at minimum, the following key stakeholders to the K-12 environment:
security director;
school administrator;
security/systems integrator (or consultant);
IT director;
local police and fire officials; and
a school-based health care professional.
For larger or more complex projects, it's best to have a hardware consultant on board as well.
4. Have School Administrators and Security Personnel Been Trained on Crisis Management?
Teachers and staff are essential to a successful emergency response. Staff should act on their own in an emergency when direction is not available, and—at a minimum—be trained on:
What to do in an emergency;
How to make independent decisions and act on them immediately;
What strategies and options they can use under various circumstances;
Who is responsible for what, and their individual roles; and
How to communicate with police, first responders, and others responding to the emergency.
5. Do Students Know How to Report Suspicious Incidents?
Ideally, a counselor or mental health professional has spoken with students about identifying red flags and what to do about it. Schools should also seriously consider anonymous reporting systems, which have deterred school violence in the past. The PASS Guidelines provide guidance on how to best implement anonymous tip reporting processes.
We're Here to Help
Ready to get more involved with school safety and security? Safe and Sound offers free toolkits designed to facilitate conversations, problem-solving, and partnerships in your school community. Or, check out our PASS Guidelines and Checklist, available at no cost, for the latest proven practices and technologies to enhance the safety and security of our K-12 schools.
It's time to rethink school safety. How can you be a part of it?
Safe and Sound Schools is a national nonprofit school safety advocacy and resource center that provides research-based tools and support for crisis prevention, response, and recovery, helping to protect every school, every student, every day.
The Partner Alliance for Safer Schools (PASS) is a nonprofit 501(c)(3) bringing together expertise from the education, public safety, and industry communities to develop and support a coordinated approach to making effective and appropriate decisions with respect to safety and security investments. You can download the complete PASS Guidelines on our website, or check out our PASS Safety and Security Checklist for quick tips on how to get started. These resources — as well as whitepapers on various topics including barricade devices, lockdown drills, and more — are available at no cost.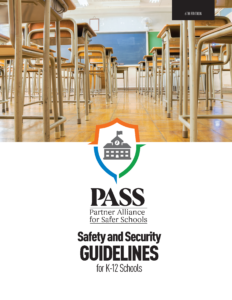 Ready to get the Guidelines?
The most comprehensive information available on best practices specifically for securing school facilities, vetted extensively by experts across the education, public safety and industry sectors.