"Parents expect the highest level of safety for their children, and they will hold the school responsible if those standards are not met." Words of wisdom from Randy Montelius, Vice President of Technology at CEC, which is also a PASS Partner.
At PASS, we often discuss the importance of having a layered approach to safety and security for students. Modern and effective security infrastructure is essential to any comprehensive school physical safety and security strategy. With advancements in artificial intelligence (AI), schools can now monitor various situations across their properties more effectively. These technologies don't come without privacy and cost concerns from parents and staff. However, AI can be advantageous without violating privacy, making it worth the investment.
Where to Start When Investing in Artificial Intelligence?
There are a lot of fancy gadgets out there when it comes to security. It might be a little overwhelming for those tasked with overseeing safety and security in schools.
Scott Keplinger is the CEO of Malum Terminus Technologies, which owns IntelliSee (also a PASS Partner), a real-time artificial intelligence risk-mitigation platform. With limited resources, schools should consider maximizing past and future investments, he said. The example he gives is video surveillance.
"Most schools have invested in video surveillance," Keplinger said. "The past investment was really important, but the reality is most surveillance is unmonitored and only used in reaction to something. In other words, tell me what happened."
He said schools can maximize their past investment in cameras by upgrading them with AI, making them more proactive. It's also more affordable than upgrading everything outright.
Montelius agreed. AI can monitor activity across the school more effectively than a human can, but combining it with a security resource officer provides a higher level of security, he said.
Another benefit of these systems is that they're easy to integrate, and they "work seamlessly and silently in the background," unlike metal detectors and other more conspicuous solutions, Keplinger said.
"The vast majority of surveillance cameras today are IP/digital cameras, but even old analog cameras can be potentially used with encoders," Keplinger said.
AI can quickly integrate with existing cameras and begin monitoring 24/7/365, he noted. Keplinger added that real-time threat detection through AI is a great complement to a school's existing standard operating procedures (SOP).
AI in Action
Not only are these types of technologies easy to integrate, but they're also easy to use. For instance, the real-time video monitoring IntelliSee provides can send real-time alerts through multiple methods and mediums depending on how the school operates. You can also set it up to send alerts to designated systems or employees based on the risk, time of day, camera location, and more.
"For example, several organizations are alerting janitorial staff to a detected spill and then alerting administration if the spill isn't cleaned within a specific time or if it's detected during off hours," Keplinger said. The alerts are usually sent to other systems or through email or text.
A recent situation highlighted the importance of the new technology. IntelliSee's AI detected a pool of water at the bottom of a concrete stairwell near a newly constructed secondary entrance at a community college, Keplinger said.
"Anyone distracted could have slipped on the spill and gotten seriously hurt or worse," Keplinger said. "Beyond the human impact, the claim against the college would have been millions. Safety is reason enough to leverage the technology, but it also pays for itself over time."
It turned out that a leaky roof caused the "spill." IntelliSee's technology detected the water and alerted the facilities department before the leak caused permanent damage to the building. In this example, the benefits of this layer of physical safety and security go far beyond a weapons-type of scenario. The AI technology was essential in protecting staff and students in a multitude of ways.
What AI Cannot Do
While AI is incredible and impressive, Keplinger pointed out that it's not a "panacea." It's one component that should be part of a layered physical safety and security strategy. A key component in our guidelines. Keplinger noted three things to keep in mind when it comes to AI:
AI can't see it if the camera can't see it. Weapons are detectible only when visible on camera, not in a backpack, for example.
Artificial intelligence vs. human intelligence: AI can alert cases of trespassing but it cannot confirm a person's authorization status or medical state.
Lights, distance, and camera angles matter: Our world is 3D, and cameras are 2D. While AI is better at monitoring cameras than people, it's not foolproof.
How New Artificial Intelligence Alleviates Privacy Concerns
When it comes to cameras and monitoring activities across school campuses, many students and staff worry about their right to privacy, which creates a "false choice" around this issue, Keplinger said.
"The reality is, controversial practices like facial recognition and other more problematic approaches associated with artificial intelligence are not needed to dramatically improve safety," Keplinger said.
He gives this example: "You don't need to know who is trespassing, has fallen, or is rendering a weapon to improve safety; you just need to know that something bad is potentially or about to happen."
This technology can walk the line between security and privacy, he said.
"It avoids creating a prison-like environment," Keplinger said.
For those still worried about privacy, there are forms of object-detection artificial intelligence that look for objects instead of people. The technology can detect weapons and immediately alert school officials. Some AI systems focus on facial recognition and can identify and prevent known sex offenders and others from entering prohibited buildings.
Some schools are also initially concerned about AI violating the Family Educational Rights and Privacy Act (FERPA). Systems like IntelliSee are fully compliant with FERPA, as they monitor existing cameras, alert school staff, and don't store or contain any personally identifiable information (PII). For example, it's illegal to have a camera in a locker room or restroom but it's legal to have a camera in the hallways and entrances to those areas.
We Know What You're Thinking: "How Do We Pay for New Artificial Intelligence?"
Unfortunately, for most schools, there just never seems to be enough funding. According to Montelius, one surprising funding source could be your insurance carrier.
"Many grants are available to schools, but they should consider their insurance carrier," he said. "Many have programs to reduce claims and may be willing to augment the fees."
"Another critical return on investment (ROI) component is to leverage multi-function/multi-purpose systems vs. single-use systems," Keplinger added. "For example, there are several excellent AI systems that detect the presence of a drawn weapon, but the reality and hope are the odds are extremely low that an active shooter situation will occur. Everyone wants protection from that extremely rare but catastrophic situation, but that's really expensive coverage, given the situation will likely never happen. But what if you had a system that protected against both the catastrophic—like a shooting situation—and the common, like trespassing, slip and falls, vehicle situations, and more? That enables immediate safety ROI given every school will face these common risks."
And Keplinger pointed out that these new AI technologies can often help supplement the cost themselves.
"We have numerous examples of operational and safety savings ranging from reducing labor hours to breaking up theft rings and detecting roof leaks," he said. "We also know that AI is substantially better at monitoring live surveillance feeds than humans given we are susceptible to zoning out either zone out or get tunnel vision when forced to watch surveillance video."
Artificial Intelligence in the Future
It's amazing what technology can do and Keplinger wonders what's next.
"Computer power continues to increase, including the use of quantum computing and other technologies that feel like they are science fiction," he said. "This computing power will further enable solutions like IntelliSee to continue evolving. At IntelliSee, we envision and are working toward having the ability to predict potential scenarios based on patterns and signature motions, including the motions associated with aggression and assault. While this may be a few years away, the progress being made is consistent."
Contributors: PASS thanks Scott Keplinger of Malum Terminus Technologies and Randy Montelius of CEC for their contributions to this article.
The Partner Alliance for Safer Schools (PASS) is a nonprofit 501(c)(3) bringing together expertise from the education, public safety, and industry communities to develop and support a coordinated approach to making effective and appropriate decisions with respect to safety and security investments. You can download our complete PASS Guidelines and check out our PASS Safety and Security Checklist for quick-start tips. These resources—as well as whitepapers on various topics including barricade devices, lockdown drills, and more—are available at no cost.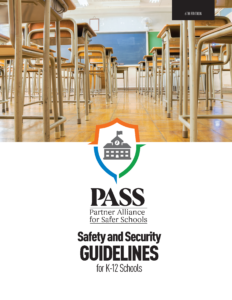 Ready to get the Guidelines?
The most comprehensive information available on best practices specifically for securing school facilities, vetted extensively by experts across the education, public safety and industry sectors.