October 15 to 21 is America's Safe Schools Week, when schools and organizations nationwide focus on K-12 school safety and security. PASS has always been dedicated to this cause. However, this observance week reminds us that it's a shared responsibility and effort to ensure that schools are safe and provide a conducive learning environment. 
Safe Schools Week allows everyone, including students, parents, school and public officials, and community members, to reflect on our progress and reassess safety and security plans. This is a perfect opportunity to develop new strategies and find ways to enhance students' discipline, attendance, and overall well-being. These efforts will ultimately improve the quality of education they receive.
Each year, the National School Safety Center (NSSC), state governors, and state school superintendents sponsor different activities, events, and educational initiatives emphasizing school safety, including bullying prevention, emergency preparedness, school security, and community engagement. These activities and themes differ from year to year and school to school, but they all share one goal––prioritizing the safety of students and staff.
Strategies for Ensuring Student and Staff Safety
To commemorate Safe Schools Week, we are thrilled to present some valuable tactics compiled by NSSC to enhance school safety and garner public backing, alongside suggestions from our PASS Safety and Security Guidelines. First, the NSSC recommends prioritizing school safety on the educational agenda. This entails creating a secure school plan involving district-wide measures to prevent crime: training faculty members, preparing for emergencies, collaborating with other agencies, and engaging students and parents.
Since everyone plays an important role in campus safety and security, the NSSC's list of ideas to improve school safety involves all stakeholders. We encourage you to visit the NSSC's website for its complete list of strategies and activities to get everyone involved in Safe Schools Week. Some methods we'd like to highlight include:
Collaborating as a community. When communities rally together to voice their concerns over school safety and security, it brings them to the forefront of school districts and their personnel. It also emphasizes that it takes a community response to achieve quality education and safe, disciplined, and peaceful schools. 
Working with local emergency response personnel to develop a district-wide safe schools plan. This process involves implementing various procedures to help navigate specific crises and protect students and school staff.
Developing and implementing comprehensive school safety policies. This means staying updated on educational trends and best practices in public relations.
Establishing a school safety advisory group. This essential group should have representatives from all constituencies, such as law enforcement officers, firefighters, parents, and the media. They should be capable of expressing the group's objectives and providing continuous support to enhance school safety and security.
Mobilizing community members to be vigilant and report any concerns or problems affecting schools. This strategy also focuses on targeting people within the community who may not have school-aged children and encouraging them to get involved at local schools.
Use Campus Security Assessments for Emergency Preparedness
As concerns of violence across K-12 campuses remain foremost, more school districts are conducting campus security risk assessments to understand their preparedness better. The NSSC recognizes that many schools already have a safety plan in place but emphasizes that the process to ensure the safety of all students is ongoing. It recommends requesting a school risk management or safety assessment by local law enforcement agency personnel.
Security assessments are typically conducted by security experts or consultants with expertise in school safety who bring a wealth of knowledge and experience to the process. They can ensure a thorough and objective evaluation. The steps involved in a security assessment may include:
Site Visits: Security experts visit the school to assess physical security measures such as access control, surveillance systems, and perimeter security.
Policy and Procedure Review: Existing safety policies and procedures are examined to ensure they align with best practices and legal requirements.
Emergency Response Evaluation: The effectiveness of emergency response plans and drills is assessed to identify areas for improvement.
Threat Assessment: Security experts analyze potential threats and risks specific to the school's location and characteristics.
Recommendations: Security experts provide recommendations for enhancing security measures and emergency preparedness based on the assessment findings.
PASS recommends these assessments as a prerequisite to deploying security solutions on campuses. Our Guidelines outline steps and best practices for completing assessments and developing plans and budgets to implement layered components for enhancing safety and security across school districts.
Safe Schools Week is the perfect time to reevaluate your school's safety and security technology, visitor management systems and policies, parking lot, exterior and property perimeters, and more. From in-service training to crisis preparation, school districts, students, parents, law enforcement, and communities should be fully aware of what processes are in place.
Featured Partner
Johnson Controls Introduces New Safety and Security Assessment Service for K-12 Schools
As we commemorate Safe Schools Week, we want to introduce a new school security solution developed by one of our partners committed to enhancing school safety. Johnson Controls, a global leader for smart, healthy, and sustainable buildings, recognizes and endorses the importance of evaluating campuses for potential threats and vulnerabilities.
Using the PASS School Safety and Security Checklist, Johnson Controls is excited to announce the launch of its cutting-edge digital assessment tool. This new solution allows district administrators to evaluate their school's security measures against national best practices, determine potential areas of vulnerability, and recommend next steps. The digital assessment also offers advantages, such as:
Efficiency: The digital questionnaire streamlines the evaluation process and requires simple "yes" or "no" answers. It also requires no on-site inspection and generates an easy-to-follow roadmap for enhancing district safety, all based on tiered criticalities.
Comprehensive Analysis: It covers various security aspects, including physical infrastructure, policies, procedures, and emergency preparedness.
Customized Recommendations: The assessment generates personalized recommendations based on each school's needs and vulnerabilities.
Cost Consciousness: The assessment pairs with available funding mechanisms that make your solution roadmap 100% reimbursable. By utilizing remaining ESSER funds or their comprehensive grants team, Johnson Controls' guidance matches your district's needs.
Data-Driven Decision-Making: The digital assessment provides data-driven insights, allowing administrators to make informed decisions about security enhancements.
Scalability: Johnson Controls' security solutions are scalable, making them suitable for schools of varying sizes and budgets.
"Johnson Controls is thrilled to develop a seamless and easy approach toward accomplishing our passion, which is student and faculty well-being," said Seiler. To gain a visual understanding of JCI's roadmap, watch the video below.
Click here
to view the video if the video above does not load.
Celebrate Safe Schools Week Year Round
Although we aim to create a secure environment for learning and socializing with peers throughout the year, this week serves as a reminder that we all play a part in safeguarding our educational institutions. Let's keep in mind this week's goals––raising awareness, preventing incidents, being prepared, and engaging with the community––as we prioritize secure and supportive learning environments.
Take a moment to brainstorm ways to collaborate within your community, such as coordinating with fellow parents to discuss strategies for enhancing school environments or partnering with students to create student-led groups that can identify safety issues and devise solutions on campus. Remember, we are all working toward this common objective together today and every day.
For more information on best practices and solutions for school safety and security, download our PASS Guidelines.
About PASS
The Partner Alliance for Safer Schools (PASS) is a nonprofit 501(c)(3) bringing together expertise from the education, public safety, and industry communities to develop and support a coordinated approach to making effective and appropriate decisions with respect to safety and security investments. You can download the complete PASS Guidelines or check out our PASS Safety and Security Checklist for quick start tips. These resources—as well as white papers on various topics including barricade devices, lockdown drills, and more—are available at no cost.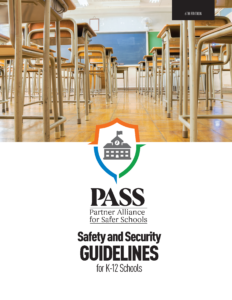 Ready to get the Guidelines?
The most comprehensive information available on best practices specifically for securing school facilities, vetted extensively by experts across the education, public safety and industry sectors.