As the school year winds down, we want to take a moment to express our gratitude for your support of PASS. We know it's been a difficult and stressful year for all of you. As we enter this much-needed period of celebration and relaxation, there are still things that integrators and administrators alike can do to keep schools safe and secure.
"The summer is an amazing opportunity to reflect on the incidents and lessons learned over the previous school year with your team," said Pass Advisory Council member Kevin Wren of A3 Communications. "We must turn those lessons learned into actionable items that we can use to mitigate future situations."
Here are some ideas for keeping our schools safe and secure over the summer break. We have compiled a to-do list for school personnel and vendor partners and a to-do list for systems integrators.
Summer To-Do List for School Personnel
"As a former security director these were my must-do actions during the summer," said Guy Grace, vice-chair of the PASS Advisory Council. "I always started with the Emergency Operation Plan (EOP) and then built the others into them. Also, the summer months were ALWAYS filled with construction and technology installations. Often during this time was when our buildings were most vulnerable to theft and vandalism. This was also when we would add new life safety components. It was always a busy time of the year."
The six critical actions for this to-do list are:
1. Update Your Emergency Operations Plan
Start with your EOP and then build other risk assessment ideas into it. Comprehensive security plans and the policies and procedures created to implement them will then form the foundation of school safety and security. Without proper policies and procedures, it is impossible to successfully use security technology and other security measures, regardless of how advanced they may be. Effective policies and procedures alone can mitigate risks, and there are often no costs associated with implementing them. This is also an excellent time to implement MOUs (Memorandum of Understanding) with Police, Fire, and other stakeholders.
2. Update Roles and Training
Just as with adverse weather drills, knowing what our roles will be if the worst-case scenario happens in our school can increase our feelings of preparedness and buy-in.
Personnel (vigilant staff and students) make up the most critical component of each layer. To individuals with criminal intent, such vigilance is an effective deterrent. All students and staff should be empowered to take effective action in emergencies and receive appropriate training and instructions relevant to a school or district's safety processes, plans, technologies, and procedures.
Now is the time to build that team. Create an inclusive group of passionate people who will become your safety/security/emergency management planning team throughout the year. This team should include parents, teachers, law enforcement, fire officials, private industry, and most importantly, students. This diverse group can help lead you in developing or enhancing your security/emergency management procedures over the next year because they have perspectives you would have never thought of. Additionally, they can be especially powerful in identifying and acquiring procurement resources (grants, bond referendums, etc.).
3. Evaluate and Update Access Control Needs for Your Districts
After Uvalde, many parents are likely questioning how someone with ill intentions might gain entry into their child's school. Controlling access to school property, buildings and classrooms is a primary security function and responsibility of school administrators. Mechanical locks have historically formed the base for any access-control system, but there are other critical elements to consider. Many schools and districts have invested in electronic access-control features that allow for enhanced security. Modern access-control systems and procedures offer an effective solution to preventing unauthorized intruders from accessing a building during school hours and for monitoring access points for the various layers.
4. Evaluate and Update Video Surveillance
A video surveillance system is a component of any school or district security program, providing deterrence and detection and, in more advanced implementations, enhancing response to various daily challenges experienced at schools. In the past, video recordings were used primarily in a forensic capacity to help determine the who, what, when, and where of an incident after the fact. However, as surveillance technology has advanced, so have capabilities that allow security professionals to leverage video as a proactive tool to help mitigate risks before and as they occur. It is very important to note that, in video surveillance, there is no such thing as a "one-size-fits-all" approach. Designing a quality video surveillance system can be complicated and requires a collaborative approach involving multiple professionals.
5. Evaluate and Update Detection and Alarms
"Detection and alarms" refer to the technology used to detect and/or report an emergency event. Traditional intrusion detection systems represent a key platform that has evolved beyond burglar alarms to provide the capability to report other types of emergencies and support an all-hazards approach to safety and security. The most crucial aspect of detection and alarm systems is that they provide the technological means to easily translate the detection of a security threat to a strategic notification that best fits with the processes and protocols put in place to respond to the dangers that schools face.
6. Evaluate and Update Communication Systems
Emergency communication is vital to the safety and security of the staff and students in our schools. It is important to distinguish between emergency and routine communication systems. An emergency communication system is defined by NFPA 72 (the national fire alarm and signaling code) as "a system for the protection of life by indicating the existence of an emergency situation and communicating information necessary to facilitate an appropriate response and action." Routine communication systems handle day-to-day communication on all matters outside this definition. This includes inspecting, repairing, and cataloging radio systems.
The summer is also an ideal time to renew and pay for your current technology license fees and add more safety components. Yearly contracts and billing cycles are nice for schools operating on a fiscal process. They give you time to budget for what you want for the following year and evaluate what you are currently paying for.
Summer To-Do List for Systems Integrators and Vendor Partners
Over the summer months, here's a to-do list with two ways you can help your educational clients:
1. Host Lunch and Learns
Invite your districts to "lunch and learn" sessions so you can educate them on the PASS School Safety and Security Guidelines as well as the technologies available to help them meet those guidelines. As you are aware, with the tragic events at Uvalde and other public places so close to the end of the school year, many school officials and staff may feel unease. These "lunch and learns" can help them feel empowered to protect themselves and their students. You can also invite manufacturers. Another idea to keep in mind as you host these lunch and learn sessions is to also use them as an opportunity to remind districts about the availability of your products and your schedule.
2. Provide Assessments and Training
Now is a great time to provide free assessments of their schools using PASS Guidelines. You can also ask to be part of or help conduct incident response training with your districts and LEOs. This provides an opportunity for education and enhancement to:
The solutions provider to see what a real-time incident drill looks like.
The school, to receive insight from the solutions provider, on how the technology is used during the incident drill as well as what additional technologies would fit into the process.
Other Summer Tasks to Consider for Your To-Do List
As we said, summer can be hectic. When school's out, more work begins. Here are some other ideas to keep in mind as you plan your summer to-do list:
Fix what needs to be fixed. Replace the door leading out to the playground because it's sticking, grind down the tripping hazard in the concrete walkway, and install a new vestibule.
Assess your current infrastructure and your faculty/staff training against your risk assessment to determine what areas need to be changed in the upcoming back-to-school training for all employees, volunteers, and students.
We have a labor shortage of skilled technical staff in the security and life-safety systems industry and face supply chain issues with many of the technologies recommended within the PASS Guidelines. Please allow more time than usual to schedule systems upgrades or technical services.
Consider doing a complete review of the PASS Safety and Security Checklist and ensuring these systems are operating correctly. That includes verifying that IP cameras have proper credentials, security, and network capacity for video bandwidth and storage. Make sure the locks work, etc.
We all know funding is a significant obstacle. Using the summer months to review available grants, use E-rate funding, and meet with school boards about budgets for security and life safety upgrades can be a very effective use of time.
Use the summer to better understand your overall school cyber-security hygiene, cyber-recovery plans, and insurance coverage.
For more information on improving school safety and security, check out the PASS website.
Contributors: PASS thanks Chuck Wilson, Guy Grace, Kevin Wren, Jim Crumbley, and other PASS Advisory Committee members for contributing to this article.
The Partner Alliance for Safer Schools (PASS) is a nonprofit 501(c)(3) bringing together expertise from the education, public safety, and industry communities to develop and support a coordinated approach to making effective and appropriate decisions with respect to safety and security investments. You can download the complete PASS Guidelines or check out our PASS Safety and Security Checklist for quick tips on how to get started. These resources—as well as whitepapers on various topics including barricade devices, lockdown drills, and more—are available at no cost.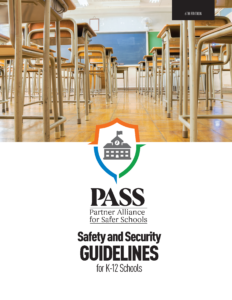 Ready to get the Guidelines?
The most comprehensive information available on best practices specifically for securing school facilities, vetted extensively by experts across the education, public safety and industry sectors.