What video surveillance can provide to schools and campuses these days may surprise you. When you think about how many students, faculty, and staff call a school their workplace, the traffic is exponential. A school's safety and security team needs all the help—and eyes—they can get.
These days video surveillance is a critical information hub that keeps school communities safe and secure. But there are ethical issues schools need to address before taking the next step with this important technology. We hit up a couple of our partners whose businesses are in this space to help us sort it out.
What Kind of Analytics Can You Gather from Video Surveillance?
Video surveillance technology, and the value it brings to schools, has evolved so much that some are starting to refer to it as "video content analysis."
"We're trying to take video surveillance to the next level and be more about prevention and helping institutions stop or thwart criminal activity before it even starts," said Bruce Canal, segment development manager in education for PASS Partner Axis Communications.
More than just identifying and tagging objects, video technology today can file and make searchable just about everything it captures. Campus security officers can filter and use the data that's helpful to their investigations or alerts. This may include walking speed and direction, gender, a backpack's color, traffic flow in a parking lot, or room capacity.
According to Adam Lowenstein, director of product management for PASS Partner i-Pro Americas Inc., video-based surveillance has powerful analytics capabilities. It's moving so fast, in fact, that listing the features is a challenge. To Lowenstein, the object and behavior recognition function of video surveillance systems stands out.
"An example of object recognition on its most basic levels can be the automatic classification of a human, a vehicle, or an animal with the scene," he said.
Even these classifications can be further refined. When categorizing humans, for example, the technology can even break down by gender, age, clothing color, or hairstyle. A vehicle's make, model, and color can be categorized.
"Behavior recognition then takes these recognized objects and looks for a certain scenario, classified by the user or the analytic in question," Lowenstein said.
For instance, it can detect too many people gathered in an area. Or if someone is stumbling alarmingly, walking in an unexpected direction, or carrying a weapon.
"All these analytics and more can be applied to video surveillance, whether recorded or live, as a means to search for an individual, or potentially, to get in front of the event before it takes place," he said.
How Can Schools Use Video Analytics to Make Decisions?
Of course, technology is only as good as the decisions the humans behind it make. Schools could use analytics to prevent such behaviors as individuals gaining access to specific areas after hours, Lowenstein said. Or for alerts and notifications when a flagged license plate enters a campus.
"All of these could be points of information that could be assessed via analytics and delivered in real time to a human decision-maker, or even as a trigger to an automated rule or action, such as a lockdown," he said.
Having more time for alerts and notifications is a critical tool for prevention, Canal said.
"Time is our enemy and our ally," he said. "Between the person walking towards us or coming to the door to the time we challenge them, we've got to get more time. Anything we can do to gain more time is certainly in the school's best interest."
Accounting for Biases
The power of this technology most certainly requires careful consideration of biases. To make the most effective decisions, it's critical that schools create and use multidisciplinary safety teams (MDSTs). These teams ensure that representatives from diverse backgrounds and areas of expertise are at the table during policy creation. Safe and Sound Schools can help with this; we're proud to call them a PASS Partner.
Why Should You Invest in Object and Character Recognition Surveillance?
Video surveillance technology, like technology in our society in general, is advancing exponentially. It has entered the world of machine learning and, soon, artificial intelligence (AI). Fear of the unknown, and fear of legitimate concerns like bias and privacy, combine to create an intimidating cloud over video surveillance. Lowenstein told us to think of AI in this context as a situational awareness tool "whose only purpose is to enhance security professionals' efforts, situational awareness of their site, and their ability to keep others on the site safe."
"Ultimately, video analytics, especially object and character recognition, have the capability of turning video surveillance from a passive technology that simply documents events to an active and intelligent tool that can potentially prevent events from happening altogether," Lowenstein said.
Canal agrees that prevention is key.
"The real question is, 'are schools utilizing everything they can?' and that answer is simply no," he said. "I think there's still a fear or maybe a lack of understanding or maybe some just don't know that these analytics exist."
But it's something he does see evolving in the years to come.
"In the next five years, I think there will be a huge proliferation of learning about and use of video analytics, and it will get us around the corner," Canal said. "Will we stop things from happening completely? No. Will we stop them quicker? Yes."
Contributors: PASS thanks Bruce Canal of Axis Communications and Adam Lowenstein of i-Pro Americas Inc. for contributing to this article.
The Partner Alliance for Safer Schools (PASS) is a nonprofit 501(c)(3) bringing together expertise from the education, public safety, and industry communities to develop and support a coordinated approach to making effective and appropriate decisions with respect to safety and security investments. You can download the complete PASS Guidelines or check out our PASS Safety and Security Checklist for quick start tips. These resources—as well as whitepapers on various topics including barricade devices, lockdown drills, and more—are available at no cost.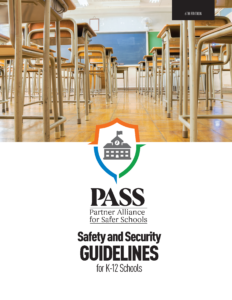 Ready to get the Guidelines?
The most comprehensive information available on best practices specifically for securing school facilities, vetted extensively by experts across the education, public safety and industry sectors.